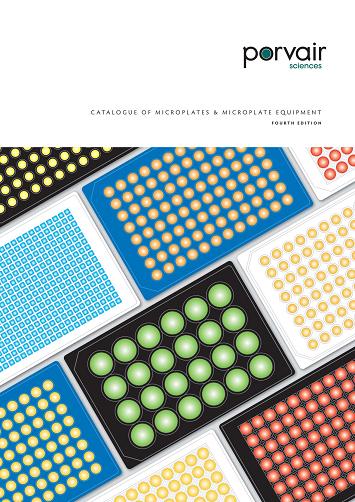 Many scientists around the world have come to rely upon previous editions of the Microplate Catalogue from Porvair Sciences Ltd. as a primary source of information that enables them to choose the right assay, filter, storage or PCR plate.

The new 2010 / 2011 edition brings together information on Porvair Sciences comprehensive microplate and microplate instruments product range. Reflecting Porvair's commitment to continuous microplate technology innovation - the 2010/2011 catalogue introduces a suite of exciting new products.

An introduction to the specialist microplate range is the new Glass Vial Storage plate - 96 high quality glass vials in a 48mm storage block - ideal for UHPLC applications. Porvair Sciences instrument range boasts two new thermal plate sealers. MicroSeal is a budget priced heat sealer with great performance, whilst the popular MiniSeal gets a makeover to become MiniSeal Plus - quicker, quieter, safer and more economical than before. Add to this new PCR plates, more sterile plate options and a new range of seals and you will see that the 2010/2011 catalogue remains an indispensable reference guide to any laboratory using or interested in using microplates.

For a copy of the new 2010 / 2011 Microplate Catalogue please visit www.porvair-sciences.com/camera_promotion.php or contact Porvair Sciences Ltd. on telephone +44-1372-824290
Porvair Sciences Ltd has specialised in the manufacture of microplates since its formation in 1992. Via its global distributor network, Porvair Sciences serves Life Sciences, Biotechnology, R&D and Molecular Biology with microplate solutions for all applications, from sample preparation to high throughput screening. Porvair Sciences Ltd. is a subsidiary of Porvair plc, a world leader in microporous materials.