Until 31 December, you can buy a premium Techne Prime gradient thermal cycler at our lowest ever price.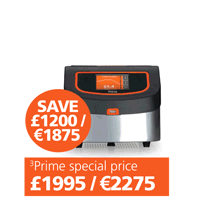 The Prime range offers something for every application – personal 48 well models to advanced 1536 well networks.
Techne benefits
The Techne Prime range of thermal cyclers compare favorably in price, specification and performance with any other thermal cycler available. Some of the most popular features of Techne machines include:
Windows software and full colour touchscreens across the range.
Programme sharing between all thermal cycler models, and your PC via USB.
Gradient capability on all models facilitates PCR optimization.
High block uniformity ±0.3°C maximizes PCR yield.
Free software updates for life available from techne.com.
Wide choice of blocks, 0.2ml, 0.5ml, 384 well, in-situ, 30 wells to 1536 wells.
Up to 12 gradient annealing temperatures, spread up to 30°C.
4 year warranty for complete peace of mind.
Made by Bibby Scientific in the UK.
Details
3Prime is a small gradient thermal cycler. The 48 well block format offers eight columns for annealing temperature optimisation and six rows for optimising reagents such as MgCl2 and primer concentrations. Annealing temperatures can be optimised over 14°C. The gradient calculator function displays the temperature for each of the 8 columns, ensuring easy replication of thermal conditions.

Prime full size thermal cyclers deliver high performance, high throughput and maximum flexibility with a wide choice of thermal blocks. User friendly programming is achieved via colour touchscreens and intuitive software, standardised across the entire range. USB ports enable the transfer of programmes between instruments and temperature logs to your PC and a real time graphical display provides instant visualisation of program status. Gradient cycling is standard on all variants: 96 x 0.2ml, 60 x 0.5ml, 384 well, in-situ hybridisation and Combi-block (0.2ml and 0.5ml together).

Prime Elite is the range-topping high-performance networkable thermal cycler, equipped as standard with all the latest features including large colour touchscreen, fast ramping, innovative front-loading PCR plate drawer, automatic non-motorised heated lid and a unique space-saving, stackable design. Prime Elite Servers and Satellites are combined to form two, three or four block networks with Satellites controllable from the Prime Elite or a PC. Gradient blocks and 4 year warranty are included as standard.
---
---
more news from Bibby Scientific Limited
---