Most scientists would love to ensure the accuracy of their results by regularly changing to the latest innovation in pipetting, but with budget constraints it is not always possible.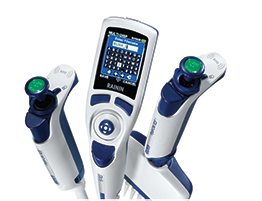 Always striving to help, Anachem are offering you the chance to trade-up your old pipettes for the latest Rainin XLS+ models at a significantly reduced price. The trade-up process has been made even easier now with the new online Pipette Trade up Calculator.
It couldn't be simpler to use, just enter the number of pipettes you want to trade up, you can trade up as many single and multichannel, manual and electronic pipettes as you like. Then select the volumes you would like to replace your old pipettes with and the calculator will provide you with a total amount you will save from trading them in. Once you have seen your potential savings, if you are interested in continuing, then you can request a quote and then place your order.
We accept ANY pipette brand/type and will include a postage-paid return kit with your new Rainin XLS+ replacements – just ensure that you send us your old pipettes within 7 days, and that they are whole/intact and free of radioactive or bio-hazardous contamination.
So as you can see, it really is as simple as 1, 2, 3 to trade-up your old pipettes –
Gather up your old pipettes.
Visit https://www.anachem.co.uk/Pipette_Trade_Up_Programme and use our trade-up calculator to see how much you'll save.
Then simply order your replacement models.
Anachem is a leading specialist distributor of liquid handling equipment to the laboratory community in the UK and Ireland, with over forty years of technical expertise and innovation. In addition to Rainin products, Anachem continues to supply and service a comprehensive range of laboratory equipment and consumables from other leading manufacturers.
Registered address: Mettler-Toledo Limited, 64 Boston Road, Beaumont Leys, Leicester, LE4 1AW. Company Registration number: 959974 (England). Anachem is a trade name of METTLER TOLEDO
---
---
---