The new Prime Elite from Techne is a networkable PCR thermal cycler specifically designed to meet the high-throughput needs and short timescales demanded in multi-user environments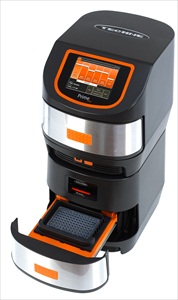 USB connectivity allows the addition of up to 3 satellites to form a multi-block system that can be controlled from the master Prime Elite or via a PC. The stackable design of the satellites means this can be achieved while still retaining the small footprint important in today's busy laboratories. The units come with a temperature gradient block as standard, with options for 96 x 0.2ml, 60 x 0.5ml, and 384-well formats. The instruments are supported with a market-leading 4 year warranty.
Thanks to the unique Thermal Energy Recovery System (TERS™), the Prime Elite combines fast 5°C/second ramp rate and low energy consumption. TERS™ stores heat produced during the cooling stage for use in the next heating stage. USB ports on the front of the unit allow easy programme transfer between instruments or to a PC. Over 1000 programmes can be stored on each Prime Elite, with unlimited storage possible through the use of USB sticks. Prime Elite features a large 5.7" colour touch screen, an innovative front-loading PCR plate drawer and automatic non-motorised heated lid as standard. The intuitive onboard software allows simple programme setup and seamless performance.
The high-throughput network approach and fast ramp rate from TERS™ means that Prime Elite is ideally suited to core facilities, such as those found in University and Bioincubator buildings, where core systems are often shared between multiple users.
Jim Bratherton, Product Manager for Techne products at Bibby Scientific commented, "The launch of our top-of-the-range thermal cycler Prime Elite is the culmination of a significant New Product Development programme at Bibby Scientific. Prime Elite completes the new Techne Prime family of PCR machines, which now offers personal 24-well cyclers, mid-size 48-well cyclers, full size 96-well and 384-well cyclers, networkable high-throughput cyclers and real-time PCR. Prime is the only group of thermal cyclers to offer a touchscreen user interface, identical intuitive software, flexible upgrades and transferrable programs between all instruments in the range."
For further information about the new Prime Elite from Techne
click here
About Bibby Scientific
One of four new companies established by Nova Capital from the former Barloworld Scientific business which it acquired in November 2007, Bibby Scientific Limited focuses on the design, manufacture and distribution of four world-leading benchtop laboratory equipment brands: Jenway®, Stuart®, Techne® and Electrothermal.
The 2011 acquisition of Electrothermal, market leaders in heating mantle design and manufacture, adds an extensive range of outstanding products which complement Bibby Scientific's broad-based portfolio.
All four brands are available through good laboratory distributors worldwide and Bibby Scientific Ltd has subsidiaries in the USA, France, Italy and Singapore, as well as an associated company in the Middle East