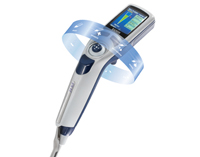 The new Rainin E4™XLS™ family is a completely new generation of electronic pipettes, designed to deliver advanced functionality, with a modern, easy to use interface, similar to today's commonly used mobile devices.
With its precise 360º joystick control and carousel-like menu structure, the E4 makes switching functions fast and easy. Whether your pipetting needs are routine, high throughput or highly complex the E4 delivers with extraordinary ease of use and versatility, it is an applications toolbox for life scientists.
In addition to basic pipetting functions, the E4 XLS offers an array of features that range from simple to highly advanced. It can be programmed for almost any application, from setting up mixing protocols, such a serial dilutions, to volume sequencing, reverse pipetting and dilute. It's unique 'True Manual Mode' gives researchers precise real-time control over aspiration and dispense speed, without the inconsistency and RSI issues associated with manual pipettes.
A handy quick start guide makes using your E4 for the first time completely effortless, but in case you want a little bit more reassurance, there is a comprehensive user manual plus the 'onboard help' is ready to assist you with whatever screen you are on or feature you wish to access. This App Master is loaded with features, functionality and a revolutionary new approach to navigation that has redefined simplicity and control in pipetting. Plus there's more, the E4 is fully upgradeable and expandable from your PC, so you can easily keep your E4 up to date with the latest upgrades and downloadable protocols.
Whatever you need, there is an E4 XLS for everybody, single channel, multichannel or adjustable spacer.
See this intuitive pipette in action by
watching the E4XLS video
Plus you can now save up to £250 with our
E4XLS Trade Up Offer
Anachem Ltd., now a METTLER TOLEDO company is the leading specialist distributor of liquid handling equipment to the laboratory community in the UK and Ireland, with over forty years of technical expertise and innovation. In addition to Rainin products, Anachem continues to supply and service a comprehensive range of laboratory equipment and consumables from other leading manufacturers.