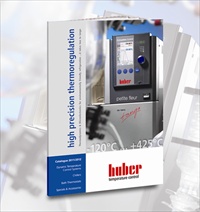 Huber UK, specialists in circulators, thermoregulators, chillers and water baths has published its 2011 'High Precision Thermoregulation' catalogue.
With a range of over 500 products, offering precise temperature control from -120°C to +425°C, and cooling and heating power of between 0.1 kW and 130 kW - Huber offer a product for almost every thermal application and process.
Designed to take the mystery out of thermoregulation and enable you to easily identify the ideal product for your thermal application, the new 130 page catalogue features an easy-to-use technical guide and case studies which demonstrate actual heating and cooling results from practical tests.
The catalogue includes an expanded range of the popular, high performance Unistat thermoregulators for process control, plus additions to the range of economy bench-top chillers and entry level MPC water baths.
Drawing upon its network of refrigeration engineers and fully trained distributors; Huber UK is able to offer technical support, servicing and emergency repairs on water baths, circulators, chillers and thermoregulators. With servicing to factory-approved protocols, warranty work undertaken and an emergency call-out service, Huber UK offers complete peace of mind and value for money.
For a copy of the 2011 High Precision Thermoregulation catalogue please contact Huber UK on telephone +44-1799-527239, email
sales@huber-uk.co.uk
or visit
www.huber-uk.co.uk