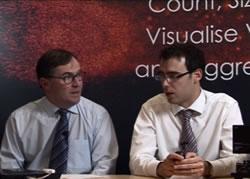 NanoSight, world-leading manufacturer of unique nanoparticle characterization technology, announces an interactive webinar on Wednesday 19th May, 0700 PDT, 1000 EST, 1500 BST, then again live, two hours later at 0900 PDT, 1200 EST, 1700 BST.

NanoSight invites registration today for an interactive webinar on high-resolution nanoparticle characterization: "Nanoparticle Tracking Analysis - Complementing DLS for more Complex Dispersions".

Hosted by NanoSight on Wednesday 19th May, first at 3pm UK time (10am US East Coast, 7am US West Coast) then repeated again, live, at 5pm UK time (12am US East Coast, 9am US West Coast), the subject will be the general characterization of nanoparticles in liquids.

For five years, NanoSight's Nanoparticle Tracking Analysis (NTA) has developed against an established infrastructure of Dynamic Light Scattering (DLS). Whilst DLS (or Photon Correlation Spectroscopy, PCS) remains the accepted worldwide standard method for sub-micron particle sizing, NTA is increasingly recognized as having unique value with polydisperse systems. Here there is capability to view, size and count nano-scale particles on a particle-by-particle basis; to produce high-resolution particle size measurements which in turn are validated by real-time video images. Virtually all NTA users already had DLS available and added the NanoSight capability as an enhancement.

More than 200 users world-wide now benefit from NanoSight, with strength in applications in drug delivery, protein aggregation, toxicology of nanoparticles, virus counting and general characterization of complex suspensions.

The webinar will discuss:
Introduction to Ensemble and Single-Particle Sizing Techniques.
Principles: Nanoparticle Tracking Analysis (NTA) and Dynamic Light Scattering (DLS, or Photon Correlation Spectroscopy, PCS)
Comparative Strengths and Limitations of NTA vs. DLS
Electron Microscopy and NTA in complement
NanoSight and Fluorescence operating modes
There will be presentations from two of NanoSight's applications team. Dr Patrick Hole, Head of Development from the UK headquarters, will introduce the technology while his US colleague, Duncan Griffiths, will present the latest applications solutions.
Click
here
to register or paste this link into your browser:
http://www.nanosight.com/webinar
.
To learn more about nanoparticle characterization using Nanoparticle Tracking Analysis (NTA), please visit the
company's website
(
www.nanosight.com
) and register for the latest issue of NanoTrail, the company's electronic newsletter.