Zirkon Industria e Comercio Ltda in Brazil relies on an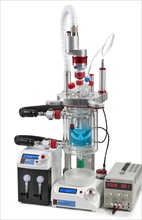 for scale-up experiments and studies related to ink additives, and for research into new pharmaceutical active ingredients. Valter Russo, director of Zirkon's R&D department, explained: "We work with zirconium compounds, which are ink additives for the packing industry, and also perform drug discovery studies. We use a range of vessels - from 100 ml up to 2 l - with our Atlas Calorimeter which, like our 100 l pilot system, has been tailored to scale-up experiments and studies in support of this work. The results obtained are fundamental to performing the technological transfer of the procedures to the production plant."
"We evaluated equivalent systems from a number of manufacturers prior to purchasing the Atlas Calorimeter and 100 l systems. Syrris arranged a demonstration of one of its reactor systems in our laboratory and explained its technological capabilities; this was really important to us, as it allowed us to see and test the product ourselves before we decided which system to buy. The systems are well designed and the software is very functional, efficient and easy to use, with a robust communication protocol. User-friendly operation allows us to train staff rapidly. The performance and reliability of both systems is really good, and we are now considering purchasing an Asia flow system to complement our existing Syrris equipment."
For further information visit
www.syrris.com