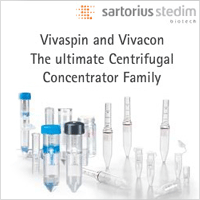 Vivaspin devices offer the perfect solution to every concentration or buffer exchange application with the broadest range of volume capacities and molecular weight cut offs (MWCO).
Highest flow rates and recoveries are achieved due to their unique vertical membrane design. Incomparably safe sample handling and convenience is assured by the integrated dead stop pocket, allowing direct recovery of the concentrate without further re-spin.
Vivacon devices offer speed and convenience for DNA concentration applications as well as protein fractionation. Their horizontal membrane paired with re-spin possibility allows near quantitative recovery of DNA samples in the nanogram range.
For further information email
info@sartorius.com
or
click here