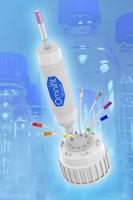 To maintain laboratory air quality and safety, Diba has introduced the Omnifit® Labware T-Series Waste Caps. The chemically inert caps trap and contain escaping vapor generated by HPLC and other lab solvents. A color changing indicator strip notifies lab personnel when it is time to replace the vapor trap.
The T-Series waste caps come in a range of bottle thread types and connect to 1/8" OD semi-rigid tubing without requiring additional fittings. The tubing pushes straight through the cap Luer ports to create a liquid- and vapor-tight seal. Other tubing sizes can be accommodated using a variety of adapters, without compromising the seal. A separate ¼"-28 UNF thread port enables connection of a vapor trap and breakthrough indicator unit.
An activated carbon vapor trap isolates any solvent fumes and prevents escape from the system during pressure venting. When the trap becomes saturated, an integrated indicator strip turns red, alerting staff to replace the trap to prevent unintentional vapor breakthrough.
The unique design also prevents over pressurization. As liquid is collected in the waste bottle, either under pressure or gravity feed, vapor is automatically vented to the trap to prevent explosions or injury.
To learn more about the Omnifit Labware T-Series caps, visit www.dibaind.com, or call +1 203-744-0773.
Diba, part of the multinational Halma technology group, provides custom engineered fluid handling components and design services. The company is headquartered in Danbury, Connecticut, USA with global locations in the UK, China, and Japan. Diba technology includes flared tubing assemblies, lined or coated aspirate dispense probes with level sensing, in-line heaters, and custom caps for reagent and waste bottles. Diba services include fluid system development, prototypes, preventive maintenance kits, and custom extrusion.