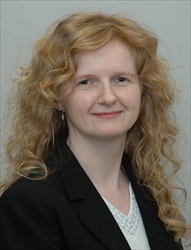 TAP Biosystems, a leading supplier of innovative cell culture systems and consumables for life science applications, is delighted to announce that Professor Julie Daniels' Group at the UCL Institute of Ophthalmology will be presenting her latest research on the use of stem cells for corneal regeneration at the world's largest gathering of international eye and vision researchers, ARVO (Association for Research in Vision and Ophthalmology) meeting on May 6
th
- 10
th
in Fort Lauderdale, USA.
Professor Daniels, who has pioneered the clinical use of stem cells for human ocular surface regeneration since 1999, has been invited to present a keynote address, which will take place on Sunday May 6
th
at 12 noon in the Floridian Ballroom. Her presentation will include a review of the use of biomimetic cornea, as well as her own work and collaboration with TAP Biosystems on using epithelial stem cells to form a biomimetic cornea using the novel RAFT
TM
(Real Architecture for 3D Tissue
TM
) process for creating collagen based tissue equivalents. In addition to this, senior scientists in the Daniels' Group will also be presenting five talks and three posters on their research using stem cells to repair the ocular surface.
Professor Daniels, who has been collaborating with TAP Biosystems since 2008, will present data to show that the RAFT process can create corneal tissue which closely mimics the cells'
in vivo
environment and supports stem cell growth, offering the potential to improve significantly on current success rates of ocular surface transplant surgery.
Dr Rosemary Drake, CSO at TAP Biosystems stated: "We are delighted that Professor Daniels' critical research has been given such a substantial platform at this prestigious Ophthalmology Conference because she is one of the founding scientists in the application of stem cells for regeneration of the human cornea. The data from the Daniels' group will show the RAFT process delivers a realistic collagen-based corneal tissue equivalent, which could in future be more effective than current clinical standards and may potentially really improve treatment for patients suffering from blinding ocular surface damage."
For more information visit
www.tapbiosystems.com